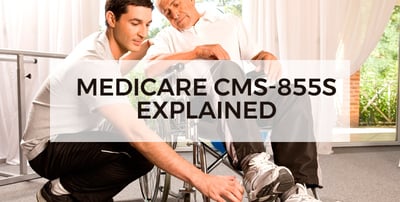 A Medicare number or a PTAN (Provider Transaction Access Number) is essential for independent pharmacies, but the enrollment process can take months and many pharmacists have trouble navigating the complicated forms.
Not to be confused with form CMS-855B for Immunizations, the CMS-855S application is for pharmacies that intend to bill for "non-accredited drugs" and/ or durable medical equipment (DME). Submitting an application will set your pharmacy back $595 payable to PECOS, and all applications will be processed by National Supplier Clearinghouse (NSC). Keep in mind if going for DME for the first time, facilities must also get accredited. We always recommend to our pharmacies to submit the application for non-accredited drugs first and then work towards getting the store accredited. That way when you obtain your accreditation, you can easily update your Medicare application that is on file with NSC without having to wait months for the application to be processed.
Should your application be rejected, you will have 30 days to make the changes or you will have to pay an additional $595 and begin the enrollment again. There are short cuts to minimize this time but if the pharmacy doesn't qualify for the exemption, accreditation is required.
Let's examine the benefits of enrolling in CMS-855S and ways to simplify the application process.
Why Should You Enroll in CMS-855S?
Independent pharmacies are, first and foremost, businesses. Although pharmacists are healthcare providers who always wish to care for their patients, as business owners, they must also consider profit margins. If your facility falls in a Competitive Bid zone, you may not be able to profit enough to justify the cost of accreditation. (Note: Competitive Bid was suspended on January 1, 2019 for two years nationwide and will resume on January 1, 2021.)
Enrolling in Medicare via the CMS-855S should make things more convenient for customers, thus resulting in more through traffic and better profits. Enrollment will allow a pharmacy to bill Medicare for non-accredited drugs and DME products, giving customers more reasons to visit your place of business. The CMS-855S application is a smart way for independent pharmacies to improve their continuity of care.
Please keep in mind, as the CURES ACT starts being implemented (effect January 1, 2020), many state Medicaid programs are beginning to require the pharmacy to maintain a Medicare PTAN and in some cases accreditation. Please reference your state Medicaid requirements for more details.
Why does this process seem so hard?
Independent pharmacies must fill out the Medicare CMS-855S application in order to enroll and ensure that patients can depend on you for continuity of care. However, before you begin the application process, make sure to understand all that goes into it. The CMS-855S application is quite long, and the information independent pharmacies need to include is not cut and dry. The form is intended to accommodate a wide range of facilities, so it can be confusing to fill out.
Submitting the application may be the easiest part, here are other things to consider:
You will need to get a Surety Bond for $50,000, should cost you about $250 as long as you don't have bad credit.
Are you going to get accredited?
What Accrediting Organization will you use?
You will need to be prepared for an onsite Accreditation Survey
You will have a CMS onsite inspection after you submit your application
First the facility must obtain a Surety Bond and be accredited. Once they have had an on-site survey and been awarded an accreditation certificate, they must then submit their Medicare Application and can expect to wait three to four months for the application to be reviewed. A CMS inspector must then visit the facility to inspect that a valid business is operating at the location and if required documentation is in place. During the wait for approval the facilities can NOT bill Medicare. Applications can be rejected if you fail to fill out the proper pages, forget to check a box, use the incorrect ink color, or even date it wrong. If this happens, be prepared to pay an additional $569 to submit a new application and begin the waiting process again.
Making the Enrollment Process Less Daunting
Although the CMS-855S application process can certainly feel overwhelming, it doesn't have to be that way. One of the best ways to ensure the enrollment process goes smoothly is to get some assistance. Trust in R.J. Hedges & Associates with all of your enrollment needs! Our Medicare application team has years of experience helping independent pharmacies enroll in Medicare via the CMS-855S. Instead of diving directly into that lengthy application on your own, take a few minutes to fill out our simple web-based questionnaire. The experts on our Medicare application team will tackle the application for you. All you need to do is review, sign, pay PECOS, and mail your application packet.
R.J. Hedges offers complete turnkey healthcare compliance programs and has worked with many independent pharmacies that need assistance with enrolling in CMS-855S. If your pharmacy needs help with its application, contact us today or start the process by filling out our questionnaire.