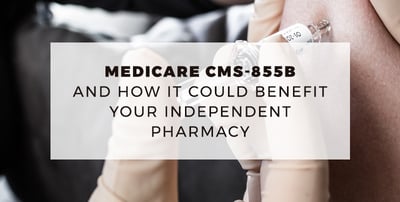 Applying for a Medicare number, commonly known as a PTAN (Provider Transaction Access Number), can be incredibly beneficial and difficult for Independent Pharmacies. This application can lead to more profits and allow for better patient care for senior patients but can also drive pharmacists crazy; the enrollment process can be lengthy, it can be challenging to determine which application to submit and confusing which sections to complete.
The Benefits of Enrolling in CMS-855B
Let's keep your patients in your pharmacy. That's right, by offering additional services like immunizations you are keeping your patients in your building and away from your competitors. If you don't provide immunizations, keeping in mind many physicians are getting away from immunizations, where would your senior patients go? That's right your competition, and once they are there, the grass may appear greener and they may wish to transfer some if not all of their prescriptions. So, let's allow your patients to accomplish multiple tasks with one visit; pick up prescriptions, grab a product from the over-the-counter section, get a small item from the gift section, and a flu shot all in one visit. If your seniors are diabetic or have high blood pressure these immunizations can help satisfy requirements that in-turn can help improve your star ratings.
The Process of Enrolling in CMS-855B
Pharmacies that wish to bill Medicare for immunizations should complete the 49 page CMS-855B application, but also need to include a CMS 460 "Participating Physician & Supplier Agreement" and the CMS 588 "Electronic Funds Transfer Authorization Agreement". As of 2018, the cost to apply is $569, but it does have a tendency to increase each year. The funds are paid to PECOS through a web based platform, are non-refundable, and have no guarantee of the application being awarded a PTAN. The review process, after the application is submitted, can take up to three months. As silly as it sounds, your application can get rejected because of an unchecked box, a missed page, an incorrect date, or improper ink color. If the application is not correctly filled out, Medicare may request additional information or items be resubmitted. Be forewarned, generally you have a very short time frame, usually 30 days to submit and it needs to be perfect. If it is not correct the second time or not received, the application will be rejected, and the pharmacy will need to start the enrollment process over by paying another $569 and resubmitting the application.
Simplifying the Enrollment Process
It's normal to feel overwhelmed by this application process, but the best way to ensure peace of mind and a successful enrollment is to get some assistance.
R.J. Hedges & Associates has a Medicare application team that specializes in helping independent pharmacies enroll in Medicare services including immunizations. Instead of struggling with a 50-page application, fill out our simple web-based questionnaire and let our experienced Medicare application team do the heavy lifting. If your pharmacy is serious about continuity of care, contact us today to learn how we can help you with your
.