Monitoring refrigerator temperatures are crucial when you have vaccines in your pharmacy. However sometimes this simple task can become a major hassle because you have so many other things you are trying to get done.
We have found a product that keeps track of your refrigerator temperatures and alerts you when temperatures get to cold or warm.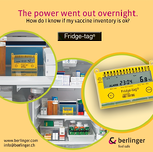 I introduce to you Fridge-tag®
Questions to ask yourself
Does your refrigerator have a good seal?
Did you make sure that it closed completely last night before you went home?
What happens if the power goes out, how will you know if the temperature in the refrigerator held?
Are you remembering to record two temperatures readings a day?
An easy solution to these questions can be resolved Fridge-tag® by Berlinger USA.
Fridge-tag® is a digital thermometer that tracks your refrigerator temperatures. What I think is so great about this product is it alerts you and records the total time the refrigerator spends out of the safety zones (below 35ºF or above 46ºF).
Here are some more key advantages:
Continuous temperature monitoring

No surprises
Visibility when no one is there

Daily high and lows are stored in the unit for 30 day

Eliminate missing data
Improve record keeping

Alarm indicator arrows provide visual alert to all issues

Alerts user immediately so corrective action can be taken
Visibility of temperatures even when power is out and one is there

Possibly save vaccine inventories

Provide manufacturers with the temperature and time information that is needed
Time outside of refrigeration temperature is critical information to avoid losing your drug inventory

No computer is needed for initialization or to read the device
And don't forget your Pharmacy Immunization Compliance Program. Our program provides your pharmacy with the proper policies and procedures needed to remain compliant with immunization guidelines.