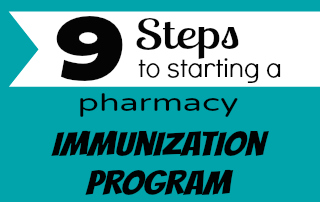 Starting a new niche like an immunization program is a great way to generate more traffic in your business and increase OTC, retail and prescription sales. But one of the main reasons independent pharmacy owners don't have an immunization program in their business is getting started can be daunting.
We're here to guide you with these top 9 steps to starting an vaccine program in your independent pharmacy:
Step 1: Check with your State Pharmacy Board
Every state has its own regulations. Your State Pharmacy Board sets the standards and regulations for pharmacies to follow for immunizations. Contact your Board or review their webpage for your state-specific regulations and to see what types of immunizations your pharmacy may be limited to. Our Pharmacy Immunization Compliance Program also contains all the state specific requirements.
Step 2: Sign Up for Immunization Training
Usually, in order to get your pharmacy immunization license, you or the pharmacist who will be giving the immunizations will need to attend an immunization course. These are usually provided by a local university's School of Pharmacy or in some cases by your State Pharmacy Association. Once you've completed your immunization training, you'll need CPR training and a CPR card which you can obtain through the American Red Cross.
Step 3: Submit Your Application to Your State Board
After you or your pharmacist-in-charge have completed all the necessary training, fill out your application and submit it to your state board. Once they process the application, they will grant you an immunization license and you are now ready to start moving forward with immunizations. The immunization license approval process can range from three weeks to three months or more, depending on your state. Note that all pharmacists must be licensed to give immunizations.
Step 4: Apply to Get a Medicare Part B # as a Mass Immunizer
Having a Medicare Part B Mass Immunizer number will allow you to quickly expand your audience and get more traffic into your pharmacy by serving Medicare Part B patients. Currently in 2017, the fee is $560 to apply. This application does get processed fairly quickly, usually within a month.
Step 5: Get Your Immunization Documentation in Order
Of course as "Compliance Experts" we believe strongly in keeping your pharmacy in compliance to ensure the safety of your patients and also to safeguard your license. Check with your State Pharmacy Board for all the regulations or sign up for our Pharmacy Immunization Compliance Program. Certain policies & procedures are not required by law but are highly recommended. While you may not get penalized directly from your state, having an immunization compliance program in place will help you dot your i's and cross your t's when it comes to starting this niche in your business. Plus, having a compliance program greatly helps with getting the next step accomplished, which IS REQUIRED by every state.
Step 6: Get Your Standing Orders Signed By A Physician
Talk to a physician and ask if they will sign your standing order. In most cases, if you have a good relationship with the physician they will sign it. If you have an immunization compliance program, physicians are more likely to support your business and sign the order. Additionally, there are other entities like some wholesalers that have a physician on staff who will sign all their member's standing orders. For every standing order you have, you do need to get a physician to sign it. We recommend that the physician signs the standing order every year. Our Pharmacy Immunization Compliance Program has all the standing order documentation needed for the 27 most common vaccines. Note if the patient has a prescription for the vaccine, standing orders are not required.
Step 7: Make Immunization Billing & Temperature Monitoring as Simple as Possible
Independent pharmacists are great at giving vaccines but frankly, many are not as great at processing immunization billing. The key is to make billing as simple as possible. That is why we recommend our clients sign up for Transact RX's billing service. Transact RX has an easy process to make it quick for the pharmacist to check insurance coverage or process the patient as a cash patient before the immunization is given. Billing is handled on the spot in just a short amount of time with each patient, eliminating roster billing. Transact RX also ensures you bill for the full reimbursement.
Other requirements that makes pharmacies apprehensive to start an immunization program is proper vaccine storage and mandated temperature monitoring. Both of these are extremely important to the success of your program. The CDC is very strict about what type of refrigerators and freezers to use for your vaccine storage. They also require that you have someone on staff check the temperature of your vaccine storage area twice a day during operating hours. While there are many vendors that do temperature monitoring, we only like to recommend other vendors if they are going to give our clients peace of mind and save them time. We've found the Fridge-Tag® 2 from Berlinger to be the easiest and best way to monitor your temperatures. This is a digital thermometer that meets CDC requirements, continually logs temperatures and can be easily downloaded to a computer every 30 days without any software. It makes staying in compliance with temperature recording a snap!
Step 8: Create a Great Screening Questionnaire
Having a great screening questionnaire allows you to document necessary information such as the vaccine lot number, the expiration date, and the ability to provide vaccine information sheets to patients. It ensures you have all your bases covered, and you are in compliance.
Step 9: Promote Your Immunization Business & Increase OTC Sales
You are only limited by your imagination. Know what works in your community and know what attracts people. Reach out to universities, physicians, your local Chamber of Commerce, local business people who travel internationally and especially places of worship and senior centers.
Having an immunization program is a great way to build traffic into your business and let the community know that you are serious about their health and well-being. Plus, customers have to wait in your pharmacy for 15 minutes after they receive any vaccine, so you gain 15 minutes of shopping time. During that time they can pick up their prescriptions, consult with the pharmacist, get their blood pressure checked or just learn more about your store. If you have any questions, feel free to give us a call at (724) 357-8380 or contact us by email. We are happy to help you decide if an immunization program is right for your pharmacy.