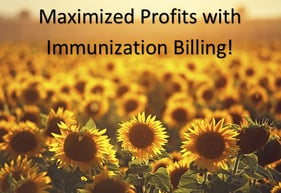 Immunizations are a great way to provide a convenient service to your patients and generate more revenue into your pharmacy. But, knowing how to bill and what to charge is a component most pharmacies struggle with. This blog will highlight how to maximize profits and capitalize on the financial benefits of immunizations!
If you are looking to be more educated on pharmacy immunizations before learning about billing please click here fist!
If you want to figure out if an immunization program is right for your pharmacy click here before returning to learn about billing specifics!
When it comes to immunization billing R.J. Hedges & Associates is a huge advocate for TransactRx. TransactRx specializes in immunization billing so they know how to help you reach your full potential when offering an immunization service to your patients.
Benefits:
When getting set up withTransactRx there are no monthly fees - just a one time set up fee of $545 and a low annual licensing fee of $375/location thereafter. Whether you are just getting started or are looking for fresh ways to generate revenue, TransactRx will meet your medical claim billing needs and can assist you with obtaining your Medicare Mass Immunization PTAN number if needed. Set-up is easy and training is provided at no cost.
Process Claims:
With TransactRx you can process vaccines covered by Medicare Part B and your contracted medical commercial/Medicaid plans. You have the option of running claims through your POS system or through the TransactRx web portal.
To maximize time, when your patient is completing their screening questionnaire you are able to run insurance through TransactRx's to check for patient eligibility. This will allow you to know what you will be getting paid prior to administering the vaccine. Having this knowledge ahead of time will prevent you from losing money. All claims are checked for patient eligibility and against payer specific edits in real time.
Improved Payment - Fewer Denied Claims
Claims submitted through TransactRx have a near perfect payment rate (1/100,000)! TransactRx scrubs all claims prior to submission and works all denied claims due to system/payer error. Medicare Part B and contracted plan payments come directly to you.
Hands Off Management:
When you partner with TransactRX you will not need to worry about coding. They take care of translating all the NDC codes to the appropriate CPT or HCPC codes. Their system does payer specific diagnosis codes so you won't have to. As an added value feature, your can print patient immunization records for all of immunizations provided at your store. Patients can keep this for their own records and share it with their primary care provider.
Looking to the Future:
With an easy billing system in place you will have more confidence to grow your immunization program within your pharmacy. By not having to stress about how much you are going to be paid or when your check will arrive, you will have freedom to expand this portion of your business. Talk with your local businesses, schools and community centers and see if they would be interested in having you come to their location as a friendly service.