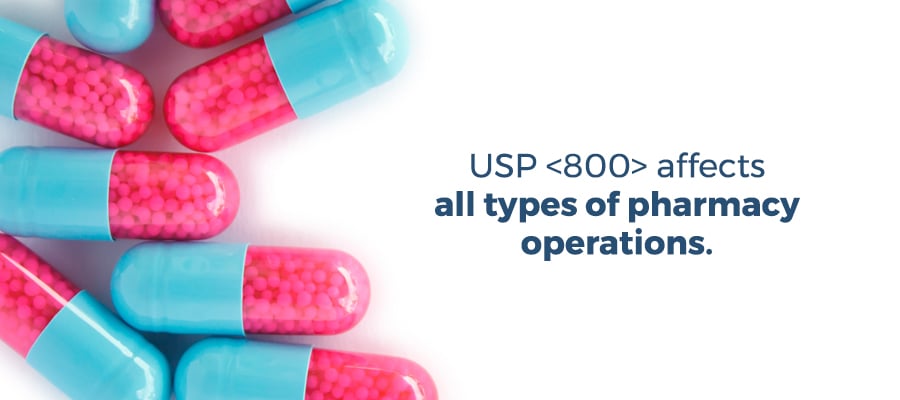 Are you starting to feel that the practice of pharmacy is like the Abbot and Costello sketch "Who's on First"? At every turn a new regulation is going into place; another merger of an insurer, chain, or healthcare system is occurring; some entity is auditing, inspecting, or reviewing your paperwork, files, and process; and someone new is dipping their hands into your pockets to take a little more of your reimbursements. Even with all those shenanigans going on, the biggest topic in pharmacy outside of DIR fees, is USP <800>.
Some of you may be thinking, "Hey, I don't compound, so I'm good right"? Wrong! USP <800> affects all types of pharmacy operations: Retail pharmacy, LTC pharmacy, compounding pharmacy, and every other facility with the word pharmacy associated with it. Why? Because every pharmacy has the ability to handle and dispense hazardous drugs. Some folks are under the misconception that they are exempt for one reason or another. Spoiler Alert: No one is exempt from USP <800>. In fact, failure to comply can impact the pharmacy license and pharmacist-in-charge license. To put the cherry on top, some states have already adopted the guidelines and are enforcing them now!
Let's spend some time today figuring out the who, what, when, where, and why's of USP <800>; what it is and where it came from, who the players and enforcers are, how to start implementing processes to meet the guidelines, and where some huge risks are in your facility that may need corrected ASAP.
What - understand USP's effects on all aspects of pharmacy and why it's happening
Who - know the players and the enforcers
How - discover steps to start implementing to meet guidelines
Where - look for risks in your facility
When - you may need to implement before federal date of December 1, 2019
What is USP <800> and Where Did it Come From?
United States Pharmacopeia or USP and the Food and Drug Administration (FDA) have worked to update guidelines to avoid another tragedy like the New England Compounding Center tragedy that killed 64 patients and infected 793 patients due to unsafe practices and gross negligence (Site: https://www.fda.gov/ICECI/CriminalInvestigations/ucm594800.htm). It also serves to help protect not only the practitioners handling these HDs but also the other patients whose drugs may become contaminated by coming in contact with contaminated devices.
USP is defining <800> as the practice and quality standards for handling hazardous drugs (HDs) to promote patient safety, worker safety, and environmental protection. Handling HDs includes, but is not limited to, the receipt, storage, compounding, dispensing, administration, and disposal of sterile and non-sterile products and preparations (Site: http://www.usp.org/sites/default/files/usp/document/our-work/healthcare-quality-safety/general-chapter-800.pdf).
What types of Hazardous Drugs are in a Retail or LTC Pharmacy?
According to USP <800>, "Final dosage forms of compounded HD preparations and conventionally manufactured HD products, including antineoplastic dosage forms that do not require any further manipulation other than counting or repackaging (unless required by the manufacturer)." In layman's terms, final dosage is when an HD is packaged by the manufacturer and maintains the packaging to the patient, or is a pill, capsule or a liquid (pouring) and the pharmacy only counts and repackages it or dispenses as is packaging (i.e. birth control pills).
Who are the Players and Enforcers?
USP <800> Hazardous Drugs 2017 version, second supplement, is officially the final version. While the national implementation date will go into effect on December 1, 2019, some states have already adopted some or all of these guidelines and are currently implementing and enforcing, such as California, Kentucky, Indiana, Ohio, Pennsylvania, and Minnesota. While the guidelines were created by USP and FDA, the state boards of pharmacies will be the enforcement agencies responsible for monitoring and imposing fines. Be aware that the FDA is training state boards of pharmacy and may be accompanying board inspectors to your facilities.
Hazardous Drugs Compliance –

State board of Pharmacy

Hazardous Drugs –

U.

S. Health and Human Services

Hazardous Materials –

U.

S. Department of Transportation

Hazardous Waste –

Environmental Protection Agency and State Department of Environmental Protection
How to Start Implementing Processes to Meet the Guidelines
The USP <800> standard is being promoted as a "compounding" requirement. However, it will impact normal pharmacy compliance operations and OSHA Hazard Communication Plans. You may already be seeing the initial effects of USP <800> when you receive "Hazardous Drugs" or HD's from your wholesaler as they may be packed in a Red or Yellow bag or some other distinguishing container marked Hazardous Drug.
Start to Inventory HD's, get SDS (Safety Data Sheets), and Segregate now
As we begin to examine the impact of USP <800> on day-to-day operations, one of the first steps that should be taken is to identify what drugs you have, both conventional manufacturer HD drugs that require only counting or repacking and normal compounding ingredients. A list of all Hazardous Drugs are identified on the "NIOSH List of Antineoplastic and Other Hazardous Drugs in Healthcare Settings."
Step 1: Create a Hazardous Drug (HD) Inventory.
Some suggestions for your HD Inventory will include indicating Drug Name, if it's a tablet, capsule, or leaves dust in container, the type of exposure that may occur, if PPE is required, and if you have the SDS as you are required to have the SDS on hand.
Step 2: Obtain SDS for all HD's.
Be sure to have a hard-copy of the SDS. Review the SDS and identify the requirements for Personal Protective Equipment (PPE). HDs requiring a C-SEC (non-sterile setting) will require the PPE to be available and used. If the requirement states a respirator is required, the respirator will need fitted in accordance with OSHA respirator requirements, (OSHA's RPS, 29 CFR 1910.134; NIOSH, 2009).
Step 3: Segregate HD's.
Segregation of HDs means a separate shelf, counter, rack, cabinet, or room and should include all HDs from the pharmacy drug stock including retail, LTC, and compounding pharmacy. The segregation area should be marked with a "Hazardous Drug Storage Area" sign. Use the NIOSH list for reference. Since HDs are starting to be segregated when shipped from the wholesaler, when your drug order comes in, inventory the incoming HDs. Between now and December 1st, 2019, you'll have an established routine for inventorying HDs and be compliant before the rule goes into effect.
Assessment of Risk
An Assessment of Risk must be performed annually for every HD dispensed from retail and LTC pharmacies and must, at a minimum, consider the following:
Type of HD (e.g., antineoplastic, non-antineoplastic, reproductive risk only)

Dosage form

Risk of exposure

Packaging

Manipulation
Using the Assessment of Risk, the pharmacy must: Document the alternative containment strategies and/or work practices being utilized for specific dosage forms to minimize occupational exposure.
Red Flag: If pharmacies choose not to complete an Assessment of Risk, all HD's must be dispensed using a C-SEC (non-sterile setting). This appears to be a loop hole to avoid the need for a C-SEC and could save your pharmacies a significant amount of money.
What is a C-SEC and does my Retail or LTC Pharmacy need one?
By now you may be wondering "Can I still dispense HD's in my retail or LTC Pharmacy without a C-SEC or Hood?" As long as your pharmacy is not compounding, only dispensing final dosage HD, and completing their Assessment of Risks, you most certainly can continue to dispense HD's without a C-SEC. The guidelines pertaining to dispensing without the C-SEC states it must be a final dosage, "Final dosage forms of compounded HD preparations and conventionally manufactured HD products, including antineoplastic dosage forms that do not require any further manipulation other than counting or repackaging (unless required by the manufacturer)." In layman's terms, final dosage is when an HD is packaged by the manufacturer in a pill or capsule and the pharmacy only counts and repackages it or dispenses as is packaging (i.e. birth control pills)
Where are risks in Pharmacy?
With many state boards of pharmacy implementing USP <800> prior to the federal implementation of December 1, 2019, many pharmacies are at risk of not being prepared. Pharmacies that are not compliant may force fines from their state boards of unknown amounts. Most pharmacies will have to change practices to comply, but one of the largest will be changing practices around using equipment with HD's. Depending on the types of products being dispensed and methods, hazardous waste disposal may even become a concern for facilities.
Pill Counters and Robots beware!
USP states when tablets and capsules go through pill counters or robots they can chip, crush, or leave dust residue. If this occurs, the units are now "contaminated." To protect your investments, Hazardous Drugs on the NIOSH list cannot be dispensed from or used in an automated medication machine (robot) or counted through a pill counter due to the chance of a pill being chipped, crushed or leaving a residue. State Board inspectors can now declare these units "CONTAMINATED" in accordance with USP <800>. A unit identified as contaminated would have to be "decontaminated" and certified as free of all HD particles before being put back into service. This will be an almost impossible task to accomplish. There are too many moving parts inside these units. At this time, there are no guidelines in place describing the method of decontamination. Thus, manufacturers cannot write protocols to decontaminate these robots or machines. If a unit cannot be decontaminated, then it must be disposed of as a "Hazardous Waste."
Pill counters that use scanner technology so the medicine does not go through a mechanical device are a good option. For example, with the Eyecon 9420, tablets and capsules stay on the tray and are counted by the scanner. The tray also has a spout to fill the vial. Do not use a funnel to fill the vial. The tray must be segregated for HDs and must be cleaned between uses. We recommend that the pharmacy have multiple trays so that cleaning and decontamination can occur once or twice a day.
Hazardous waste disposal
Trace hazardous drug waste includes empty vials (dust in the container/vial). Even empty HD containers with HD residue are labeled as hazardous waste. This type of hazardous waste can be disposed of at a licensed hazardous waste landfill.
Expired drugs whether they are on the shelf as full or partial bottles are considered Hazardous Waste. These drugs must be placed into the quarantine area and segregated as "Hazardous Waste." Hazardous waste must be disposed of in accordance with the EPA's Resource Conservation and Recovery Act (RCRA). The pharmacy's return's company or Stericycle offer the best solutions for disposal of expired HDs.
If your facility is disposing more than 220 pounds of hazardous waste per month, which is extremely rare, you need a special EPA permit. Be sure to update your Hazard Communication Plan to include how your pharmacy will be disposing of this waste. Be warned that the EPA and State Environmental Agencies are checking for the most common HD, "warfarin" at pharmacies. We recommend you start implementing a process to pull all HDs and return to the wholesaler 9 months prior to expiration unless you are guaranteed to dispense within 90 days. Additionally, we recommend that you never accept an HD from a wholesaler unless you know that you can dispense the entire quantity within 90 days of expiration.
How Can R.J. Hedges & Associates Help?
Advance preparation is the key. We have been working diligently for some time now to create the required policies and procedures and to develop a manageable implementation plan for compliance with the new standards. Over 45 new policies and procedures and support documents have been created to meet the USP <800> standard.
R.J. Hedges & Associates continues to keep a constant watch on the entire healthcare regulatory environment allowing you to rest easy knowing that your pharmacy is always up-to-date and in compliance. Our Pharmacy Compliance and Compounding Compliance Programs have already been updated to address items within USP <800> and will be updated shortly with recent changes to USP <795>. If you would like to keep up with the changes and have the ability to implement them in small, manageable steps rather than a mad dash to understand and implement the entire standard at the end of the year, contact one of our compliance strategists today!
"A prior post on this blog identified Parata Systems robotic pharmacy equipment as being incompatible with USP <800> and stated a price for Parata equipment. These statements were incorrect and the price quoted was inaccurate. For questions about Parata Systems equipment and pricing, please contact Parata Systems at www.parata.com."