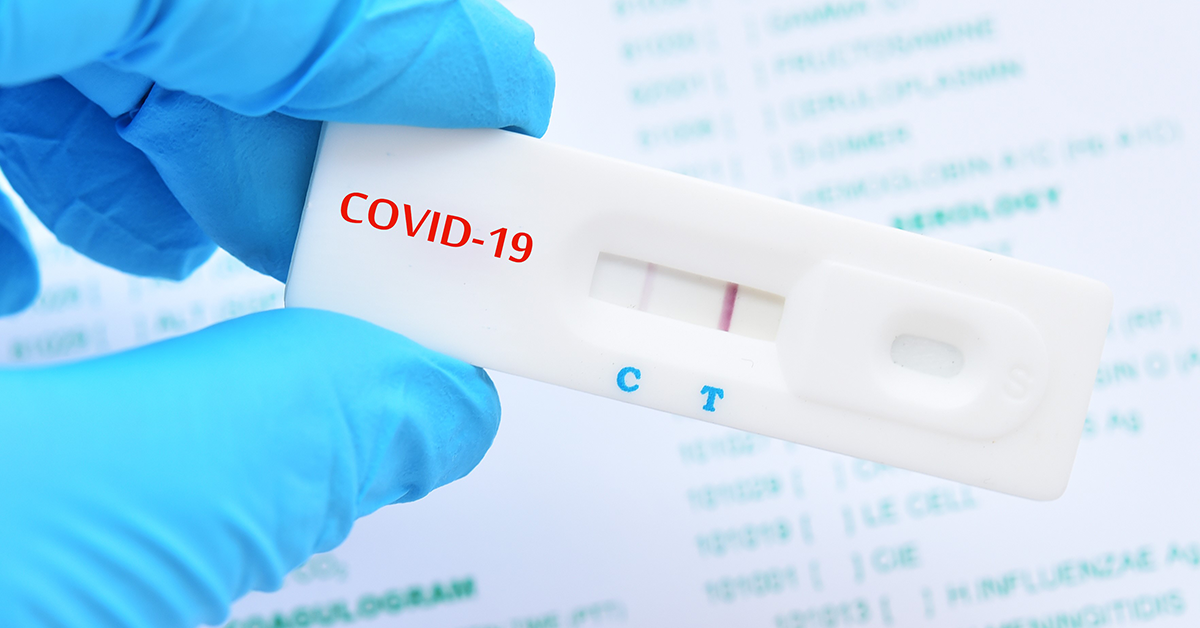 The FDA has issued an emergency-use authorization for a low-cost, rapid-response COVID-19 antigen test from Abbott Laboratories. The BinaxNOW COVID-19 Ag Card—which uses technology similar to home pregnancy tests—is intended for use by medical professionals, is about the size of a credit card, and provides results in about 15 minutes.
The $5 test is intended for use on patients within 7 days of experiencing coronavirus symptoms. The process involves a nasal swab administered by a health care professional, and the swab is then inserted into the card-like test. According to Abbott, data show the new antigen test has demonstrated about 97% sensitivity. The company said Wednesday it expects to ship tens of millions of the new tests in September, with plans to increase production to 50 million tests the following month.
FAQs About Binax NOW COVID-19 Ag Card
Q: Can a pharmacist administer this test?
A: Yes

Q: Do I need a Medicare Part B Immunization PTAN to administer this test?
A: Probably. PECOS application fees have been waived, during this pandemic, for an unknown period of time. R.J. Hedges & Associates can complete applications on your behalf for an Immunization PTAN. Click Here for details.

Q: Will my pharmacy be required to have a CLIA waiver to administer this test?
A: Since this is a self-contained test, it should NOT require a CLIA Waiver. Pennsylvania a very restrictive state. We don't know how Dr. Levine, the PA Sec of Health, will react since she has not approved one CLIA waiver by a pharmacist. However, HHS has issued guidance under the Public Readiness and Emergency Preparedness Act (PREP Act) to expand access to safe and effective COVID-19 vaccines when they are made available. HHS Guidance Document

Q: Abbott is stating they will ship tens of millions starting in September. HHS release a statement about a week ago that McKesson will be the primary distributor for any tests.
A: We can expect McKesson to charge non-McKesson health care providers slightly more; that's just business. The good news is they will be available, and we know who will have them.

Q: Can the pharmacy bill for the test?
A: Probably. There is a NDC code for specimen collection, but this is a self-contained test. We would expect a new NDC to be issued soon.

Q: Will insurance companies pay for the test?
A: They should, but all COVID-19 testing is being paid by HHS. However, the test kit is set at $15.00, so most everyone will be able to afford the test, should they wish to be tested and pay out of pocket.

Q: How do I dispose of the test kit after use?
A: Dispose as a medical/bio waste. Contact your company who disposes medical syringes.
If you'd like to prepare for future COVID-19 testing and vaccine administration the 1st step is to ensure you have an Immunization PTAN and CLIA waiver. Medicare applications can be tricky, but our Medicare Application Prep service will prepare all paperwork needed to submit the CMS-855b application to procure a Immunization PTAN with ease. For more info click here.
If you want to increase revenue and foot traffic, starting an Immunization Program at your pharmacy is a great option. Our Immunization Compliance Program, has policies and procedures for all aspects of starting and maintaining an immunization service for your community. Support documents such as Standing Orders, Emergency Protocols, and has a very robust Travel Vaccine section, are customized for you and updated as regulations and vaccines change. With future COVID-19 vaccines on the horizon, it will certainly be updated to accommodate any regulations and paperwork in the future. To learn more click here!
As COVID-19 vaccine development continues to evolve, we will certainly update this Blog.