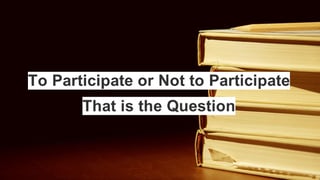 Be prepared to answer one of the biggest questions of the year on November 15th, the question of participating or non-participating. R.J. Hedges & Associates is providing you with a podcast, and blog as resources, so when November 15th rolls around you and your pharmacy are ready to decided what is best for you!
What are My Options?
Non-Participating: You are not accepting the medicare reimbursement and are not billing Medicare for immunizations (influenza and pneumococcal).

The first thing you need to do, if you move to non-participating and no longer accept assignment, is educate your patients. Let them know that starting January 1st, you will be collecting the full fee for Medicare Part B products and that Medicare and their secondary will send them their reimbursement checks. The patient also must understand about the 2% sequestration fee and copays as well as the difference between the Medicare allowable and your Usual and Customary fee.
The next step is for the supplier to write a letter on their letterhead to the National Supplier Clearinghouse for CMS 855S products advising the contractor that you are terminating your participating status. The letter must contain the Legal Business Name as reported to the IRS, address on the CMS 855, the PTAN and NPI numbers and the "Authorized Persons" signature. Click here for a sample letterhead.
Sample Termination of Participation Letter
Participating: You are accepting the Medicare reimbursement allowable for each product you bill for. [If you bill Medicare for immunizations then you MUST accept assignment for all Medicare claims.]

If you decided on participating, that means you are accepting the Medicare allowable or assignment. Additionally, you are agreeing to charge your patients no more than 20% of the allowable during the time of dispensing. Medicare will send you, the supplier, the reimbursement of 80%, less the 2% sequestration fee. If you are aware that the patient has a secondary insurance carrier, the copay should only be the balance minus the secondary payment. It is strongly suggested that the copay be collected at the time of dispensing.
Why Should I Participate?
Profit margin: at some point, every pharmacist and healthcare provider must stop being a healthcare provider and start being a business owner. If you take care of the patient at all costs, you will be out of business and you and your staff will be out of a job.
Things to Consider When Being a Business Owner:
Profit Margin

Your Competition

Your Patients

Your Staff

Immunizations
Once you take these five things into consideration, you will be able to make an informed decision.
Why It's Important to Consider NOW?
Medicare reimbursements are continuing to be slashed and every supplier should look at this option every year, but especially this year. There is only a short time period where a supplier can change their status from Participating to Non-Participating and it's coming in November. The official time frame is from November 15 to December 31, but we strongly encourage you to respond by past December 15th. NSC states the letter must be post marked by December 31st, but if there is a glitch, the supplier will have to wait another year. It doesn't matter who is at fault, you must wait until next November 15th.
Want More Information?
Click here to listen to our CEO Jeff Hedges's podcast on Participating vs Non-Participating. He will go more in depth on the topic and address how to answer hard questions from your patients. Hopefully, with these references you will be able to make the best decision for your pharmacy.
November 15th SAVE THE DATE!