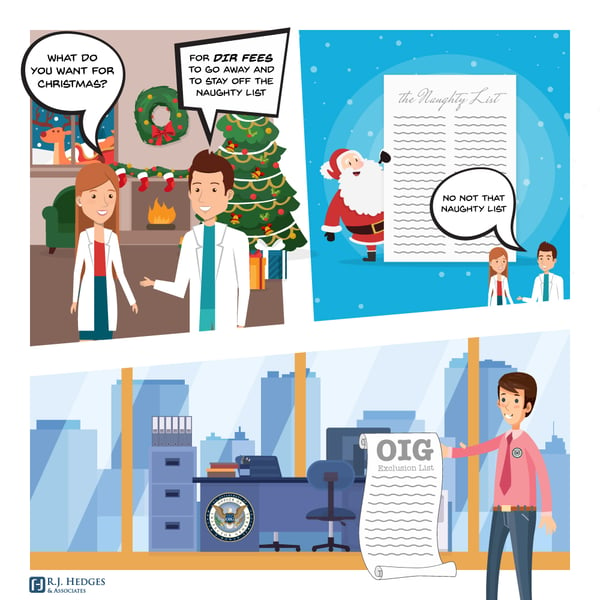 This time of year, children are compiling Christmas wish lists, trying their hardest to stay on Santa's "Nice List" and possibly doing extra things to move off the "Naughty List." We've had a lot of questions lately about another Naughty List out there, the OIG Exclusion List or List of Excluded Individuals & Entities (LEIE). Most people already know that if a person or entity commits Medicare fraud they will go on the exclusion list, but many pharmacy owners have been wondering, "What else might someone do to get on that list?" We've compiled a few ways to stay off the OIG Naughty List, aka the OIG Exclusion List.

Failure to Pay Student Loans

Did you know failure to pay back student loans, could place you on the Naughty…I mean OIG Exclusion List? Have you ever thought, "Money's tight, what's the worst that could happen?" The worst is being placed on that list and no longer being able to bill any government programs, i.e., Medicare, Medicaid and Tricare, not to mention having a bad credit rating!
Refusing to Allow Federal Inspectors in your Facility
If a police officer was behind you with lights flashing, it's likely that you would pull over. So, if a federal inspector shows up from any agency (FDA, DEA, OIG, HHS), allow the inspector to come into your facility! Sending them away or refusing entry is like fleeing from the police. It looks like you have something to hide and is a huge "no-no!"
We are all busy, but do yourself a huge favor, take the time to meet with the inspector and produce the items being requested. The sooner you do, the sooner the inspector will leave. If you choose not to, the consequences could be very severe, including having your license revoked, fines, jail time, a business shut down or being placed on the OIG Exclusion List. An October 2015 Pharmacy Times article, "What to do when the DEA arrives at your pharmacy" lists several suggestions including remaining humble and having records readily available.
Complete Your CEUs
Few professionals say, "I can't wait to sit through 30 hours of CEUs this year!" While CEUs may not be on your list of "Top 10 Things to Do in 2019," they are a requirement, and if you think it's ok to skip a few here and there, think again. Not only could skipping CEUs lead to corrective action by your state licensing board and possible suspension, but your name could also go on the Exclusion List barring you from participating in any state or federal healthcare program for a minimum of five years. Thirty hours vs. 5 years, we'll let you do the math.
Don't Commit Fraud
With a $591 billion price tag in 2017, Medicare is the 3rd most expensive item in the US budget next to the Defense at $590+ billion and Social Security at $939 billion.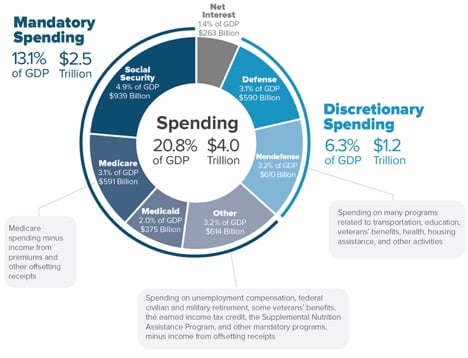 *Chart source https://www.cbo.gov/publication/53624
According to an April 2018 article in AARP, "Medicare Under Assault from Fraudsters," roughly 10 cents (or 10 percent) of every dollar budgeted is stolen or misdirected. Malcolm Sparrow, a Harvard University professor and leading fraud expert, said, "The true amount lost to fraud, abuse or improper payments could be 20 percent, or even as high as 30 percent." With more than $60 million in Medicare fraud losses, that number exceeds the total budget for Homeland Security at $42.4 billion and NASA at $19 billion.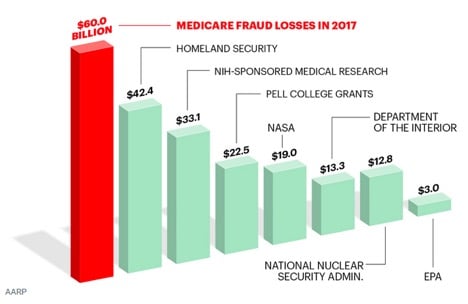 So, where does that $60 billion go? It is believed to be lost to overpayments due to fraud, waste or abuse which includes:
Phantom Billing: Billing Medicare for services, procedures, tests or equipment that is not needed and/or is never received by beneficiaries.
Patient Billing Kickbacks: Instances where patients receive monetary compensation for providing their Medicare number and agreeing to lie about receiving services if asked.
Upcoding: Inflation of bills by using coding for more expensive services.
Innocent mistakes, for example, billing errors.
Medicare abuse occurs when providers don't follow good practices and perform services that are not medically necessary. Healthpayerintelligence.com is a website with countless news articles describing those who thought they could scam the system but were proven wrong. DOJ, FBI, HHS and OIG are partnering with the offices of local district attorneys in an effort to reduce losses, recover some of these funds and discourage others from trying to cheat the system.
Don't Have Your License Revoked
Each state has different requirements and rules that practitioners need to follow. Abide by all of those rules, and you'll be in good shape. Criminal charges will cause your license to be suspended or revoked most of the time.
Words of Advice
As a friendly reminder, pharmacies are required to run OIG-SAM Exclusion Verification monthly on the names of all employees (part-time and full-time), owners, 1099 or contract employees and business associates (including assisted-living facilities, suppliers and vendors) whose products and/or services are billed to a state or federal healthcare plan (Medicare, Medicaid, Tricare) and retain those records for 10 years. Other medical practitioners, like doctors, dentists, chiropractors and DME facilities, need to run their reports annually. Failure to do so or employing/contracting someone on the exclusion list could result in all program monies being pulled back for the period of time in question.
We know that all of you on the "Nice List" want to follow the rules, ensuring that you get to keep all the monies you collect, but perhaps you don't have time to create your own policies and procedures or maybe the list of folks you need to run through the OIG Exclusion Database EVERY month is just too big and there simply aren't enough hours in the day. R.J. Hedges & Associates can make your compliance wishes come true with a simple and easy solution. The R.J. Hedges Fraud, Waste and Abuse (FWA) Prevention Program ensures you are in compliance with Medicare Parts B, C and D, Medicaid and third-party payers. Our FWA Prevention Program provides a platform that allows your monthly exclusion verification to be completed in seconds vs. possibly hours manually entering the data every month into the two different databases. Our program also provides a series of policies and procedures designed and customized to keep your pharmacy in compliance including: Anti-Kickback, Conflict of Interest, False Claims Submission, OIG and GSA Exclusion Verifications, General Compliance, FWA Training and Whistleblower Protection.
If you already have a program in place and want to see how compliant you are with FWA rules and regulations, feel free to take our free FWA Assessment.