August 2023 - Newsletter
Included in this newsletter
FTC Abandons Statements and Studies that Benefited PBMs
On the 13th of July, the Federal Trade Commission voted unanimously to warn that some of its previous advocacy statements related to PBMs are "outdated and no longer reflect" current market realities. The decision effectively removes a major line of defense for the PBM- insurers in litigation, arbitration, and lobbying against state and federal reforms.
As state legislatures and Congress investigate the PBM practices, everyone's eyes are being opened, publicly. Some sort of change is coming. The PBM lobby is very strong in D.C. and what ultimately occurs remains to be seen.
Rite Aid Reports an Unknown Party
On July 20, Rite Aid mailed letters to customers whose data may have been exposed in a data breach. The company said some customers' personal information was accessed by an "unknown third party" by exploiting a security flaw in its software.
A data breach is becoming more and more common. Patient information is a HIPAA Breach and must be taken seriously. If someone accessed your computer system, do you have support to help identify unauthorized access? If you don't know, contact your healthcare software company and your local technology company. In addition, the healthcare's computer systems need to be encrypted. If patients email their PHI, the email exchange needs to be encrypted because the system is storing the inbound emails.
FTC Reaches Proposed Settlement with Surescripts in Illegal Monopolization Case
The Federal Trade Commission filed a proposed order that would prohibit health information technology company Surescripts from engaging in exclusionary conduct and executing or enforcing non-compete agreements with current and former employees. The FTC's proposed order, filed in federal court, would resolve charges that Surescripts used anticompetitive tactics to illegally monopolize two e-prescription drug markets and would provide immediate relief to consumers. FTC Announcement
DEA Considering Relaxing Virtual Prescribing Rules
Supporters of telemedicine are praising DEA for considering potential rule changes to allow controlled substances to be prescribed through telemedicine without requiring patients to undergo an in-person medical evaluation. DEA said in a notice it will hold a listening session in September to allow the public to discuss the issue. DEA indicated it will use a lottery to select in-person attendees and that it will "exercise its discretion" in selecting presenters "to select a cross-section of persons and organizations." DEA said, "A significant majority expressed concern, with respect to at least some controlled substances, that the proposed regulations placed limitations on the supply of controlled substances that could be prescribed via telemedicine prior to an in-person medical evaluation."
ATA Action, a telehealth lobbying group, said it "welcomed" DEA's consideration of a special registration process and listening session. During the COVID-19 public health emergency, DEA changed its rule requiring patients to be seen in-person at least once for certain controlled substances such as stimulant medications for attention-deficit hyperactivity disorder, anxiety medicines, or medications for opioid use disorder. Before the emergency's expiration, DEA said in May it would extend the telehealth flexibilities through November 11.
Jelly Bean
Communications Design and its Manager Settle False Claims Act Liability for Cybersecurity Failures on Florida Medicaid Enrollment Website
Jelly Bean Communications Design LLC (Jelly Bean) and Jeremy Spinks have agreed to pay $293,771 to resolve False Claims Act allegations that they failed to secure personal information on a federally funded Florida children's health insurance website, which Jelly Bean created, hosted, and maintained.
"Government contractors responsible for handling personal information must ensure that such information is appropriately protected," said Principal Deputy Assistant Attorney General Brian M. Boynton, head of the Justice Department's Civil Division. "We will use the False Claims Act to hold accountable companies and their management when they knowingly fail to comply with their cybersecurity obligations and put sensitive information at risk." Read more
Compliance Portal- Maximizing your eLearning Center
In September, all our trainings will officially be on the eLearning Center. This should make on boarding new staff members and keeping track of existing staff training much easier. Here are three things to do to ensure your employees are set up to use the eLearning Center correctly. #1 Make sure each employee has their own unique email address, #2 select the type of designation which will determine their level of access (Client Admin, Client, or Training Only), #3 select the User Type (what roles they have will determine the trainings they are required to take). This video describes the process of adding users: https://vimeo.com/557716357/bb6ca9a76a
Special note- We have had several calls where users can't log in or view files. The solution is ensuring pop-ups are enabled. Sometimes when browsers update, or you access from another computer you must allow these settings again.
ACHC Standards – Non-Sterile Compounding
ACHC released their Non-Sterile compounding standards on 07/12/2023 during their USP 795 Workshop. All of the R.J. Hedges & Associates policies and procedures are being reviewed at ACHC. All policies and procedures are in final review or already posted in the Non-Sterile Compounding program.
In addition, when using ACHC for accreditation. Ensure you use the R.J. Hedges & Associates discount available.
DiversifyRx Conference
A Note from Jeff Hedges:
"The DiversifyRx conference was exceptionally good. I presented to the pharmacy technician track twice in two days. The techs were really excited to have their own breakout sessions for the conference. I would encourage everyone to consider going to the DiversifyRx Conference next year, and also to strongly consider taking their lead technicians."
Podcasts – Partnership Series with RxScan and DSCSA
In this podcast, Becky Templeton from R.J. Hedges & Associates interviews Max Peoples and Rachel Reed from RxScan about the Drug Supply Chain Security Act (DSCSA). DSCSA aims to eliminate counterfeit pharmaceutical products from entering the supply chain in the United States. Max Peoples, the CEO of RxScan, a pharmacist and multi-location pharmacy owner, explains what the new DSCSA regulations will require and items pharmacies need to have in place prior to the November 28, 2023 implementation deadline. Partnership Series: DSCSA with RxScan
Come See Us
NCPA's Ownership Workshop
Orlando,

FL October 12-13, 2023
New and Updated Forms
DME and Pharmacy


Drug Supply Chain Security (Track and Trace)

Organizational Chart

DME

Patient Intake Durable Medical Equipment

FWA

HHS OIG Exclusion Review Process

HIPAA, DMEPOS, Pharmacy


Complaints to Covered Entity

Non-Sterile Compounding


Bulk Chemicals and Compounds

Cleaning and Sanitizing

CNSPs Requiring a Shorter BUD

Component Selection Requirements

Compounding Processes

Creating Compounding Records

Creating Master Formulation Records

Equipment

Establishing a BUD for a SNSP

Extending BUDs for CNSPs

Internal and External Recalls

Introduction and Scope

Labeling

Medical Recall Procedures

Parameters to Consider in Establishing a Beyond-Use-Date

Personnel Compliance

Personnel Training and Evaluations

Quality Assurance in Pharmaceutical Compounding

Release Inspections

Responsibilities of the Compounder

Standard Operating Procedures
Why all the Compounding Updates?
We've had a lot of updates occurring behind the scenes on our Compounding Program lately. So here are some answers to a few common questions:
Q: Is the Compounding Program up to date with USP <795> and USP <800>?

A: Yes, we continually update our programs as regulations change and are clarified. The policies have been updated to the most recent version of the USP Compendium released on November 1, 2022.
Q: Are USP <800> requirements covered by the R.J. Hedges & Associates Compounding program?
A: Yes, USP <800> was fully enforceable as of January 1, 2020; our program has addressed these items since 2019.
Q: How does R.J. Hedges & Associates stay up-to-date with changes?
A: We closely monitor USP and utilize peer reviews completed by compounding pharmacists. To take our services to the next level, we are undergoing our first formal review by ACHC to ensure our program also meets their standards and hopefully receive their endorsement.
Compliance Corner- Hazardous Drugs UPS <800>
Hazardous Drugs USP <800> has been enforceable for many months, but some people are still surprised when their State Board of Pharmacy (BoP) asks for items pertaining to it. USP <800> has items for both retail pharmacies and compounding pharmacies. This section has some notes everyone regardless if you are retail or compound, have our programs or are trying to do it alone.
Here are few things were hearing from people calling in for help. A pharmacy in West Virginia called in stating their BoP Inspector wanted Policies & Procedures (P&P) for USP <800>, specifically Proper Handling and completed Assessments of Risk. A Kentucky pharmacy owner said their state BoP Inspector would not recognize their self-written P&P's because they were omitting key information. And some folks think they still don't need to do anything because they believe USP <800> doesn't apply to them. There is clearly a lot of confusion on what pharmacies need to have in place so here are three scenarios to help determine what you may need to be doing with some solutions that we happen to offer.
Scenario #1: I am a Retail Pharmacy that does NOT do Compounding (at all ever!), but I do have Hazardous Drugs(HDs) on my shelf for dispensing.
Requirements: You DO need to have P&P's in place for dispensing the HD's that are on your shelves. We recommend segregating them to make it easier for the staff to identify. You must have a Completed Assessment of Risk for each item (unless you plan to store and dispense from within a negative pressure room), and you must use separate counting tools that are ONLY used for working with HDs.
Solution: The R.J. Hedges & Associates Hazardous Drug Program has everything your retail pharmacy needs for dispensing drugs that are found on the NIOSH list. We also have an Assessment of Risk option that has over 140 Hazardous Drugs found in retail pharmacies already completed for your review and ready for implementation.
Scenario #2: I am a Compounding Pharmacy, but I do NOT Compound Hazardous Drugs ever.
Requirements: If you have a retail segment that dispenses HDs you need to follow the HD requirements of a retail pharmacy (read above) and since you don't compound HDs- Good news, you do not need to worry about making your compounds in a negative pressure room! But you still need to have processes in place to comply with 9 chapters in USP since they all deal with Compounding.
Solution: The R.J. Hedges & Associates Compounding Program has everything you need to comply with requirements from your state board of pharmacy and insurance companies pertaining to USP <7>, <51>, <795, <1075>, <1160>, <1163>, <1160>, <1191> and <1231>.
Scenario #3: I am a Compounding Pharmacy that Compounds Hazardous Drugs.
Requirements: Bless your hearts because you have all the requirements to deal with. For compounding Hazardous Drugs, you can only do this if you have a negative pressure room, everyone has their own respirator, and everyone is wearing the correct PPE based on the drug's SDS.
Solution: The R.J. Hedges & Associates Compounding Program has everything mentioned in Scenario #2 and already has a UPS <800> chapter tucked in to help with those HDs.
**Please note if you are doing Sterile Compounding USP <797> our program will not be suitable.
Meet our Staff- Jill Trentini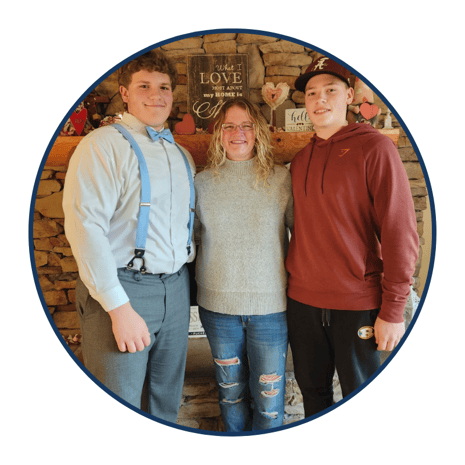 Jill is our in-house country gal, she loves camping, spending time with her family and friends, making her own wine, and watching her boys play sports and race.
For almost 14 years she has been helping clients achieve compliance as one of our Project Managers. On a daily basis she fields calls and emails with client questions and requests, helps prepare and maintain compliance programs, and collaborates with other departments to help improve and expand services. She is our Project Manager Supervisor where she manages our PM team, helps assign new clients, and oversees Licensure and Medicare Application services.
Jill says "I enjoy camping, boating, kayaking, hunting, and watching our boys hill climb and play football. Truly I love anything that includes being with my family and friends. My husband Joe and I have been married 19 years and we have 2 boys Jaden (17) and Jorden (14). I also enjoy canning the vegetables out of the garden and making wine."
Fond Farewell to Erica
After 14.5 years of service with R.J. Hedges & Associates, Project Manager Erica LaRue will be embarking on a new adventure effective August 20th. During her time with R.J. Hedges she has grown both personally and professionally, helped to cultivate and improve our processes, and witnessed firsthand the power of positive customer service as she has greatly helped and positively impacted the clients she supported.
Erica has seen the evolution of our company and was a contributor to many changes and our growth. She personally helped reassign all her clients to other Project Managers and introductions to key people have already been made. We are very sad to see her go, but extremely excited for the new opportunities ahead of her!